In this guide, we will walk you through a few SEO basics so that you can start implementing these strategies on your or a client's website.
We'll cover things like: 
What is SEO
Why it's important 
Keyword research 
Link building 
On-page SEO 
Technical SEO 
User experience 
Mobile SEO 
Let's get started.
What is SEO? 
SEO is the process of improving the performance and experience of your website so it can gain better visibility in search engines.
Ultimately, SEO should bring more traffic, customers, and revenue to your business.
Why is SEO important? 
Search engine optimization is a fantastic tool for marketers because, unlike paid advertising, SEO leads to organic interest in your website and/or brand. 
When users visit your page through organic search, they are looking to answer a question or find a solution to a problem. SEO allows you to create a website that these visitors might find especially valuable or useful, improving rankings and conversions. 
In short, SEO can:
Ensure that you're visible when your potential customers are searching on Google.
Drive targeted traffic to your website from people interested in your product or service
Result in increased organic revenue.
Give you a solid competitive advantage.
SEO Basics 
Not everything that you do as an SEO needs to be complex. The basics often deliver the quickest wins when you get them right. 
Some starter SEO objectives can include: 
Making sure that Google can properly crawl and index your site (technical SEO).
Creating the best, most relevant web content ( on-page SEO and content creation).
Building your site's authority to ensure that your content is trusted by search engines (off-page SEO and link building).
To make things easier to follow, we have created a list of techniques to try in the following categories: 
Keyword Research
Technical SEO
On-Page SEO
Link Building
Let's get started with one of the more critical elements of SEO: keyword research. 
Keyword Research
Learning the SEO basics means getting a solid grasp of what it means to do keyword research. Let's break it down: 
1. Find Your Site's Primary Keywords
Often referred to as 'short-tail,' 'money' or 'head-term,' keywords, these are the high-volume, high-competition search terms for which you want to rank at the top of the SERPs.
Yes, they're usually competitive, and it will take a new site time to be able to rank for these terms. Consider these your long-term targets in your SEO strategy.
Here's how to find your site's primary keywords:
Jot down the different terms that you'd expect a customer or client to use when looking for a business like yours on Google. Use Google Sheets or Excel to help you keep track. There are no right or wrong terms here; focus on listing as many relevant keywords as possible. 
Head to the keyword research tool of your choosing. For this article, we'll use our Keyword Overview tool.
Enter the search terms from your list and select "Analyze."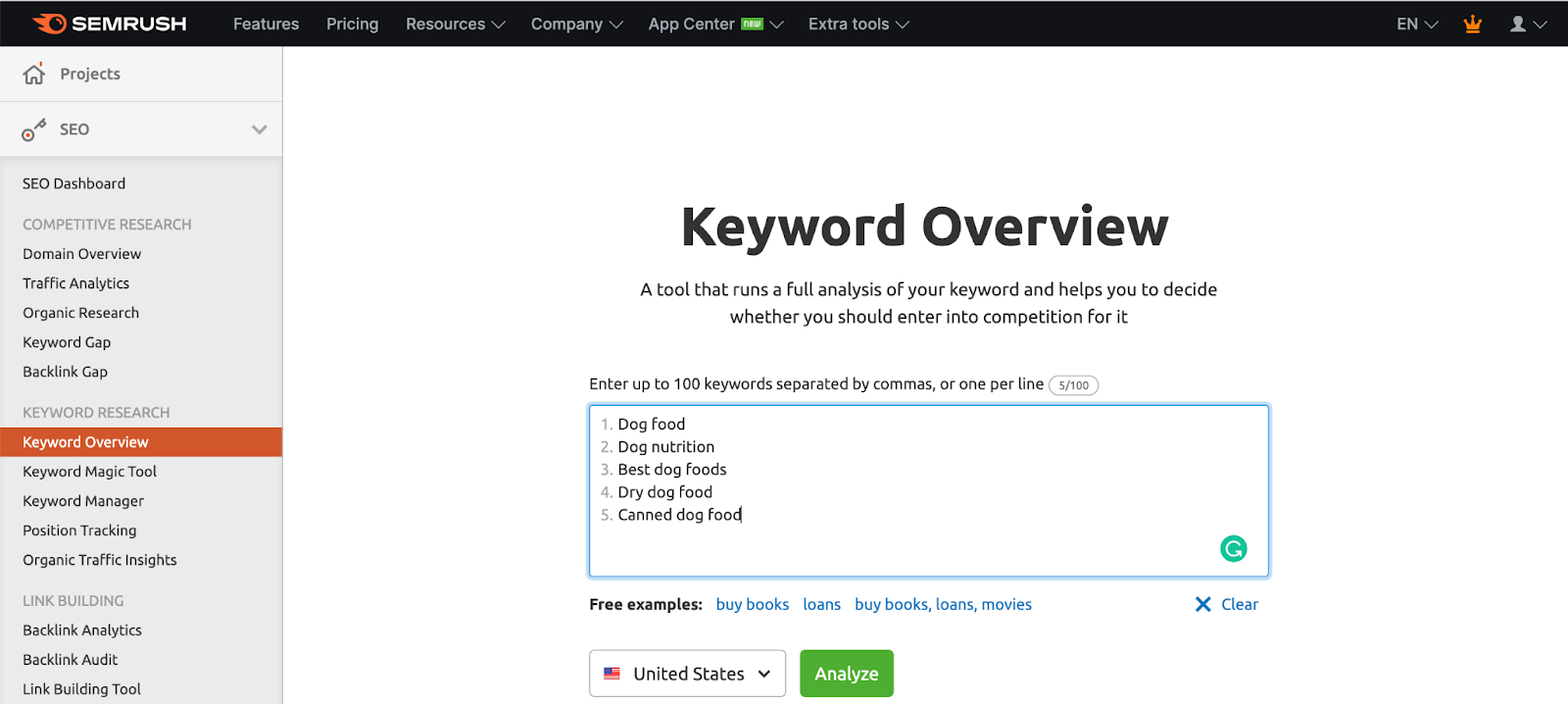 The tool returns a list of metrics for each keyword, including their monthly search volume and keyword difficulty (KD). These are two key stats here to take note of that we'll need to use.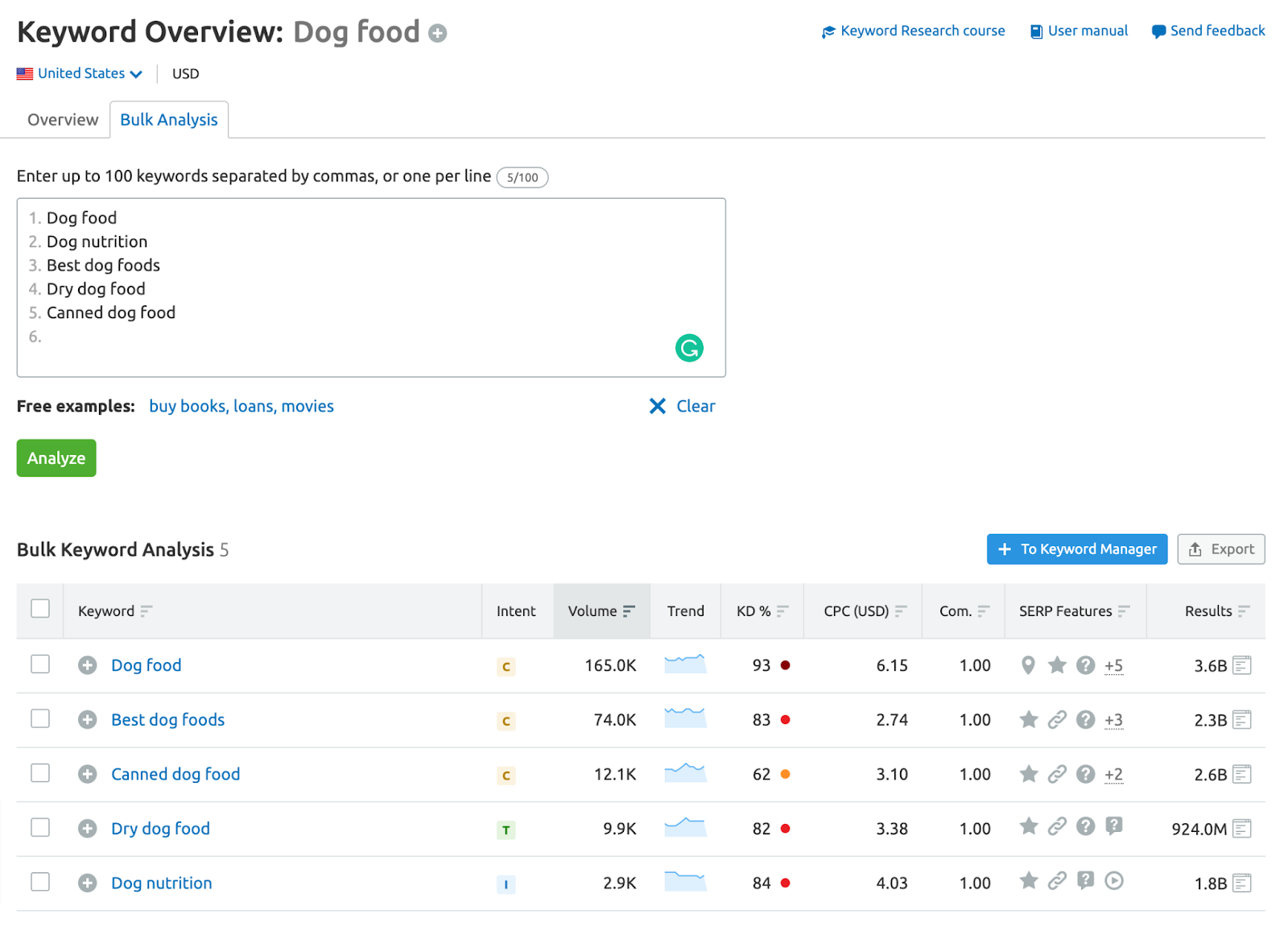 Use the columns to determine which keywords receive adequate monthly searches quickly. These keywords could potentially drive traffic to your site. 
2. Find Long-Tail Keywords and Keyword Variations
Today, keyword research is about so much more than targeting just a few search terms. You need to write compelling content that deserves to rank, which means understanding and including context around your keywords. You can do this with keyword variations and long-tail keywords.
Long-tail keywords are longer search terms that typically have a lower search volume but a higher level of intent. The Keyword Magic Tool will often suggest long-tail keywords based on your primary keyword: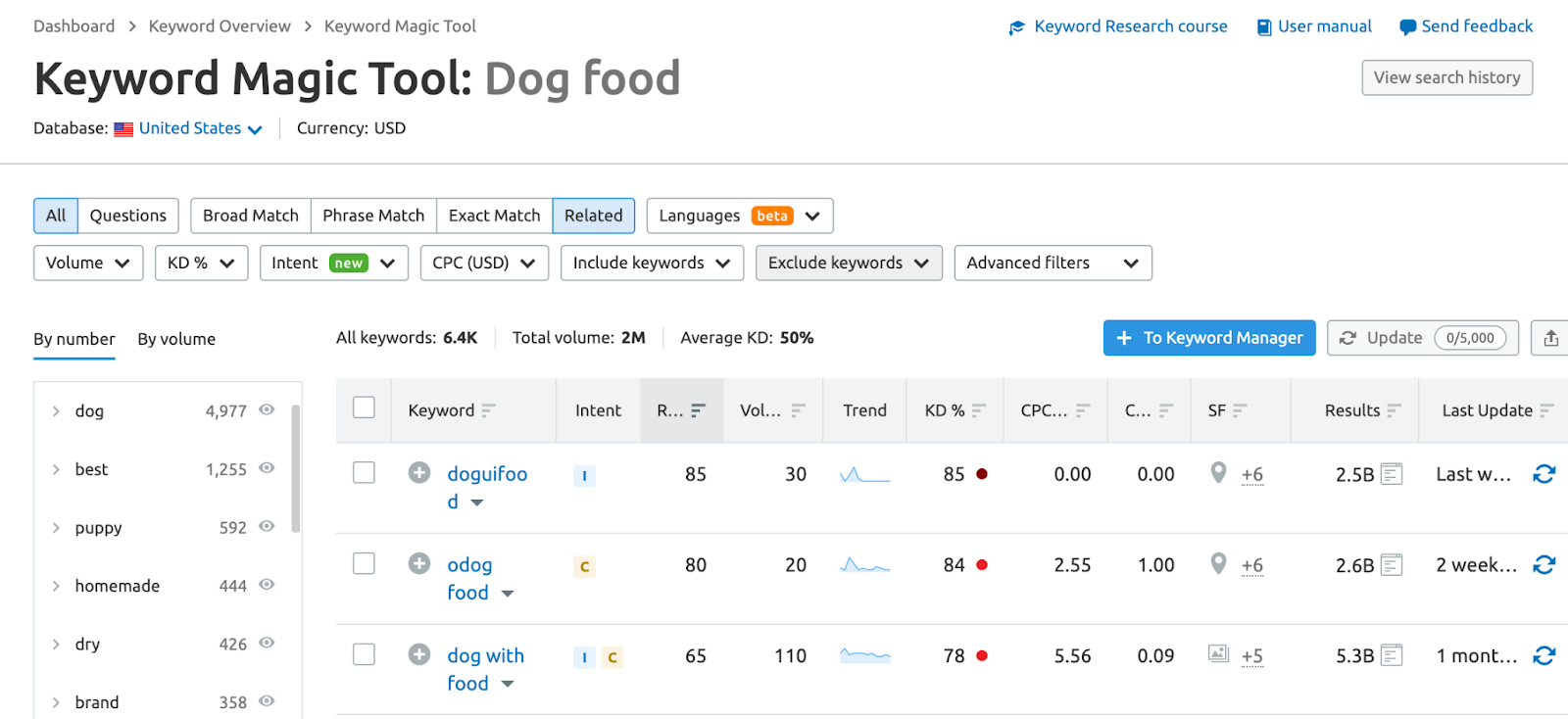 Save the keywords you want to work with to the Keyword Manager clicking the gray + next to the keyword. The tool will prompt you to add these keywords to an existing or new list:
Once you've got your keywords in a Keyword Manager list, you'll be able to track the metrics of each keyword: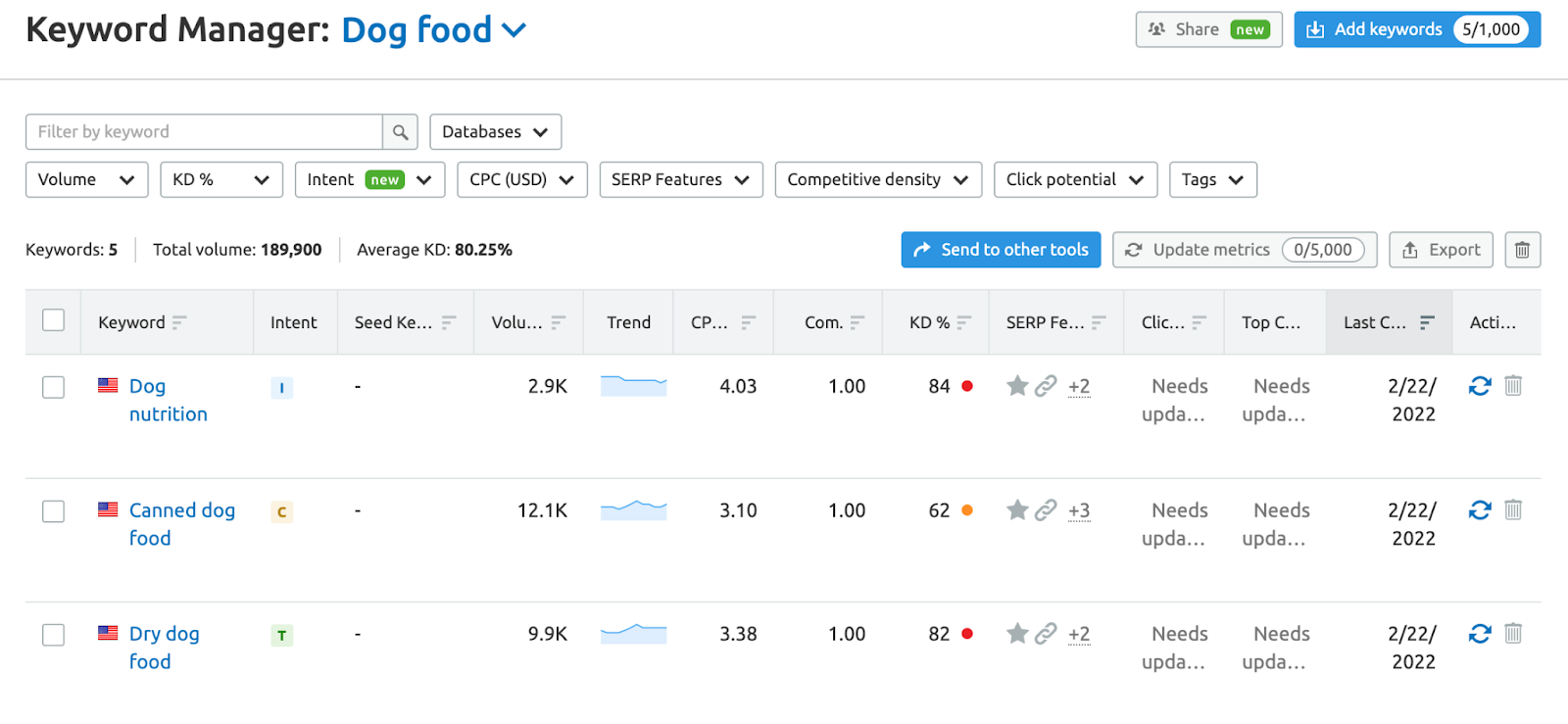 Click on any keywords to view that keyword in the Keyword Overview tool. Use this tool to view each keyword's metrics in an easy-to-follow format: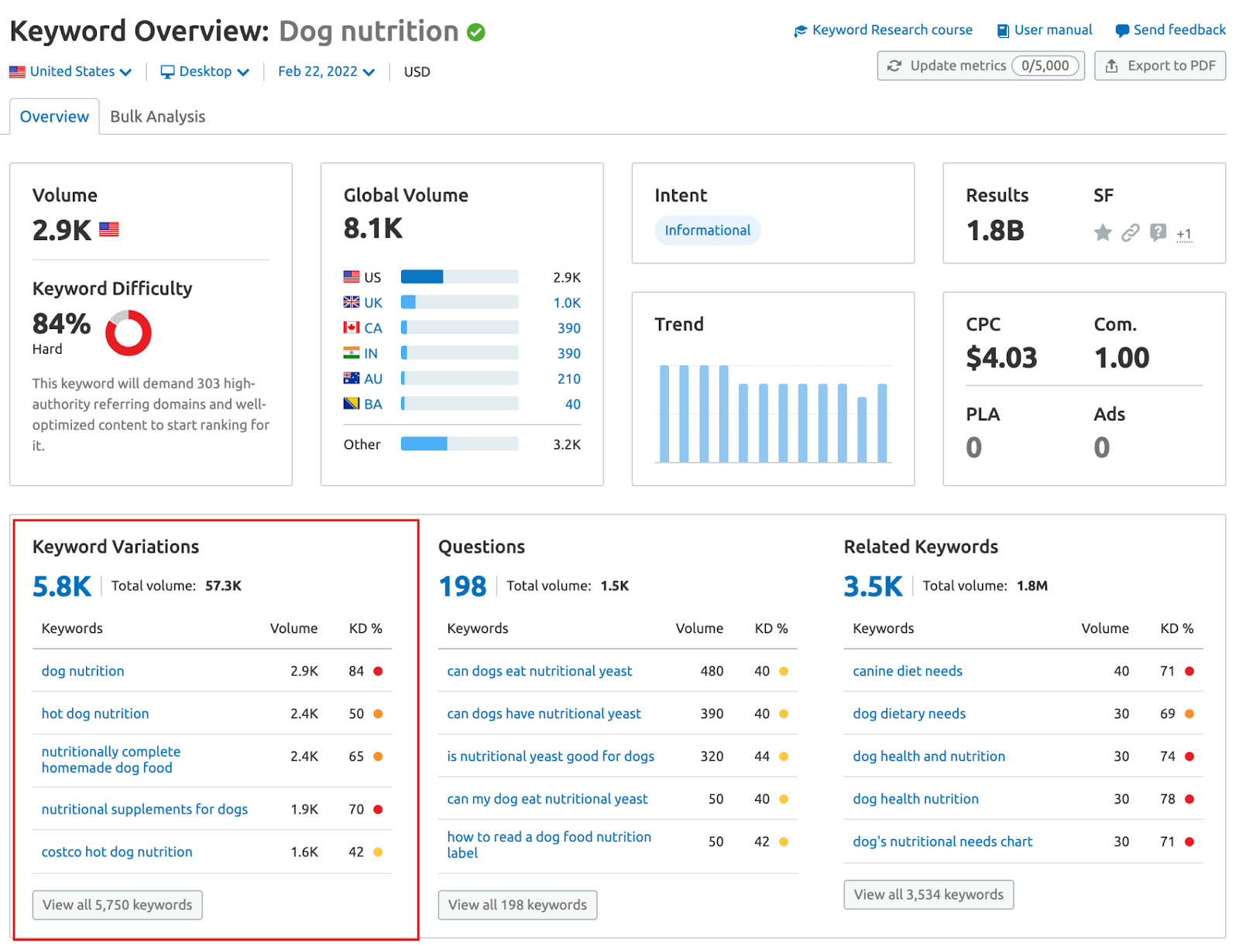 Here, you'll see a Keyword Variations box, perfect for building out your keyword list. You'll find keyword variations of your primary keyword, so you can properly optimize your site for other relevant terms.
You'll also see the questions and related keywords widgets. Use both to generate further insights and ideas that can help you build out a long-tail keyword strategy.
3. Understand Your Site's Authority
You need to figure out where you can realistically compete right now and build out a strategy to set a strong foundation. You can start by analyzing the Authority Score of your site and your competitors to see where you stand in the current SEO landscape.
But what is Authority Score (AS)?
Simply put, "Authority Score is our compound domain score that grades the overall quality of a website and tells you how impactful a backlink from a site can be for your SEO."
The score is based on the following Semrush data:
Backlink data including referring domains, follow and no follow links, and more
Organic search data, including organic search traffic and keyword positions
Website traffic data (monthly visits)
You need to find your own AS and compare with the sites you're competing against on the SERPs. To do this:
Head back to Keyword Manager and click on your list. You'll see a 'show' link on the 'Top Competitors' column.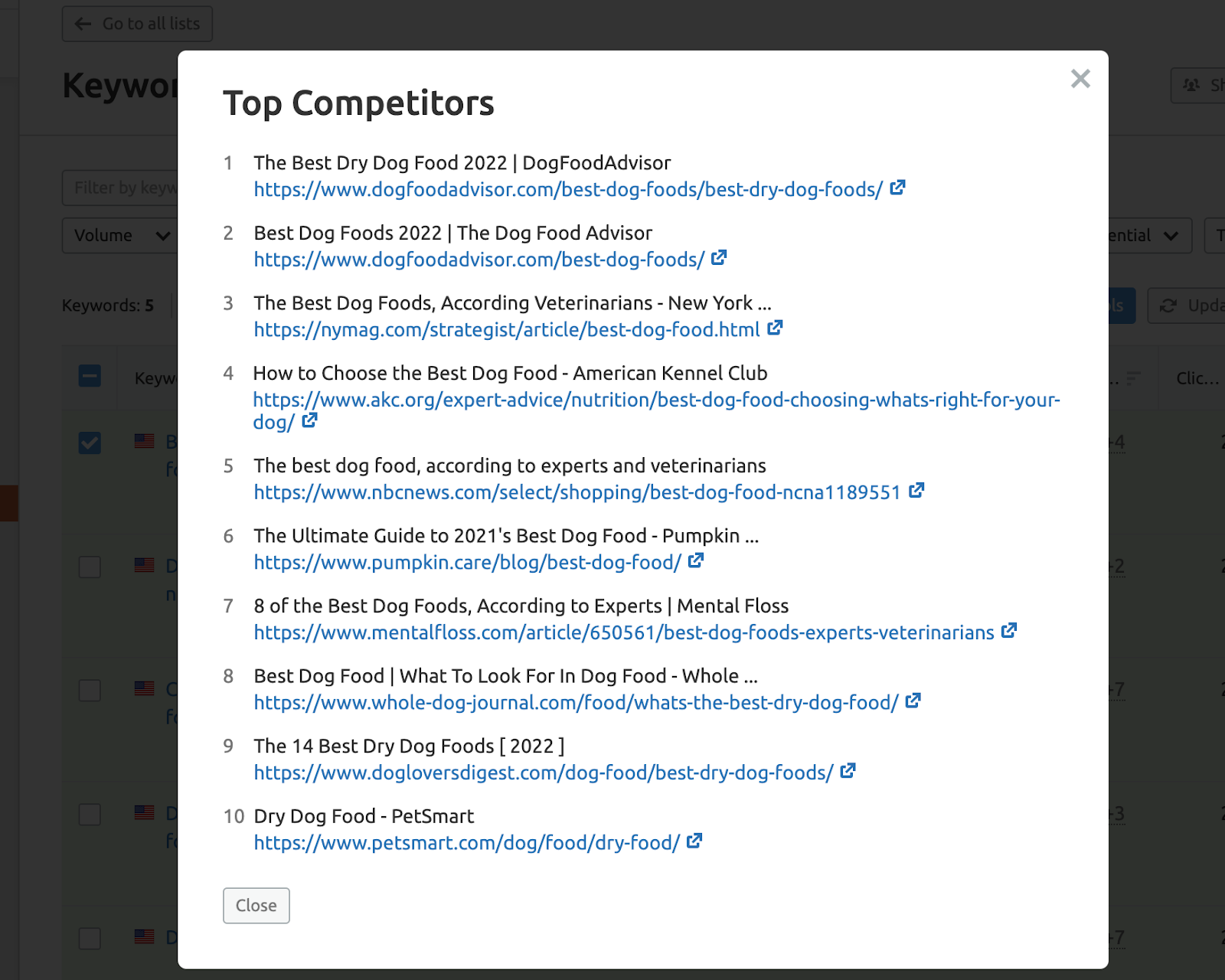 Grab these URLs and run them on the Bulk Backlink Analysis tool. Then you'll see the AS score for each one. Be sure to include your URL to compare, too.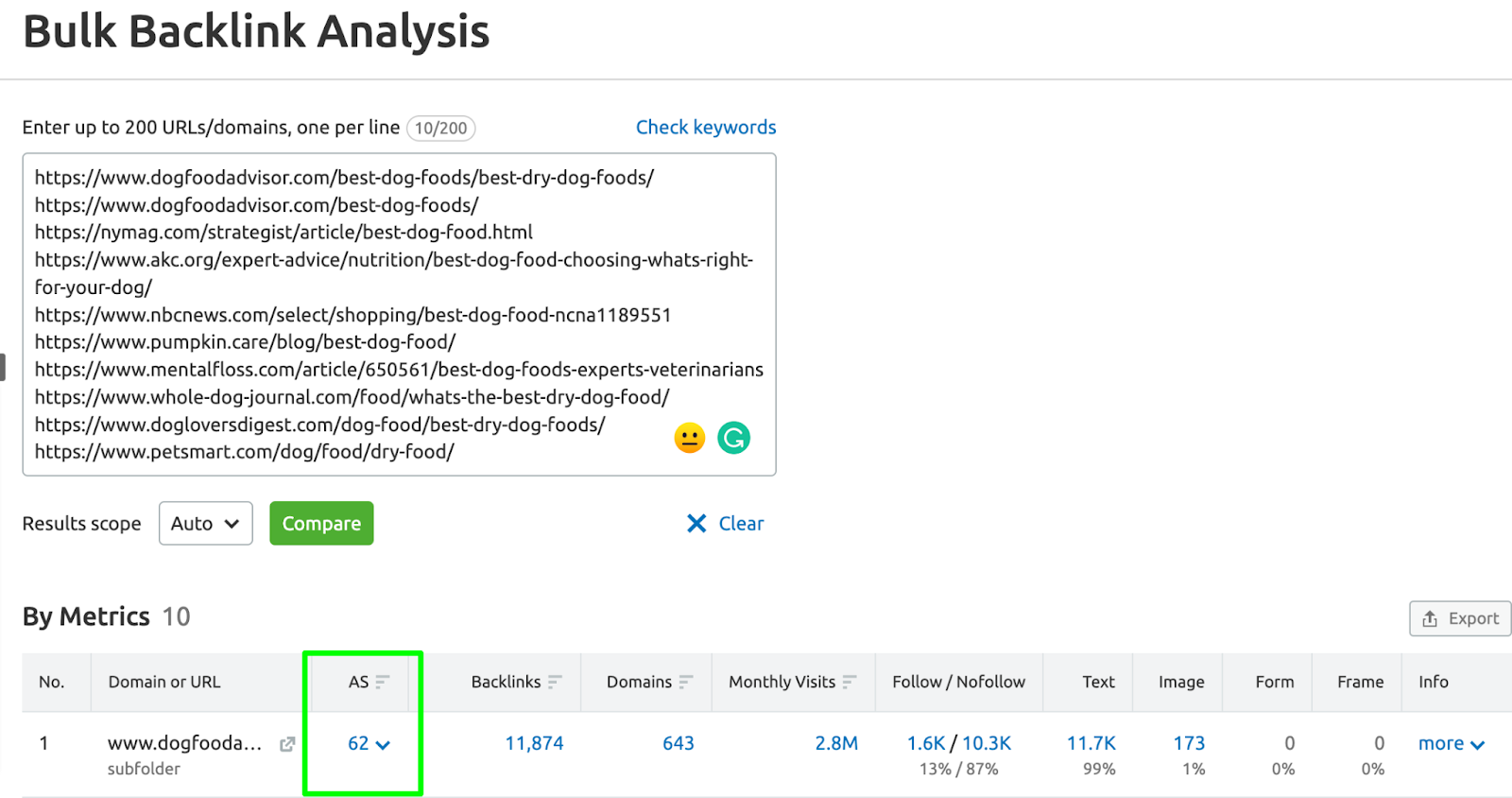 Comparing your own page against the competitors who rank will indicate whether you're authoritative enough to complete for these right now. 
4. Map Keywords to Your Site's Pages and Identify Missing Pages
The next step is to map your primary and secondary keywords to your site's current pages. You can do this by determining which keyword the page should rank for.
Mapping this out in Excel or Google Sheets is convenient to keep on top of it. Be sure to group similar keyword variations where the intent is the same.
This exercise should see the majority of keywords assigned to pages and posts. You have a " keyword gap " if you don't have a page to target a keyword, you have a "keyword gap." You'll need to create a page on your site that targets that keyword.
Link Building
Another central pillar of SEO success comes from building your authority. How do you do that? Backlinks.
In short, a backlink is one website giving a link back to your website -- essentially giving you a vote of confidence and supporting you. As long as the site linking back to yours is a good, trusted authority, your site could earn traffic and gain trust.
We covered the many different link-building strategies you can use, so let's review some essential ones:
Build Links from Associations, Suppliers, and Connected Business
One of the quickest wins for building links is reaching out to real-life connections your business has.
That could be:
Your suppliers
Associations that you're a member of
Your office block's website
Your local chamber of commerce
Think about business connections with a website that links out to others they work for. Then, simply ask if they'll link out back to your site. 
Often, all you need to do is ask your contact, and you'll be able to get a link placed. 
Submit Your Site to Quality Directories
If you're a local business or work in a specific niche, you'll likely find that business directories exist where you could submit your site and get a link in return. This can be a speedy way to build foundation links for your site.
Head to Google and run a search for things like:
[location] business directory
[industry] directory
[location] business listings
You may need to pay a small listing fee, but remember that this is about more than just SEO. It's placing your business in front of an active audience looking for businesses like yours.
Use Haro to Earn Links From the Press
HARO is a platform that connects journalists who are looking for content for their stories with business owners and marketers just like you.
Three times a day, Monday to Friday, HARO sends out an email that includes requests from journalists like this: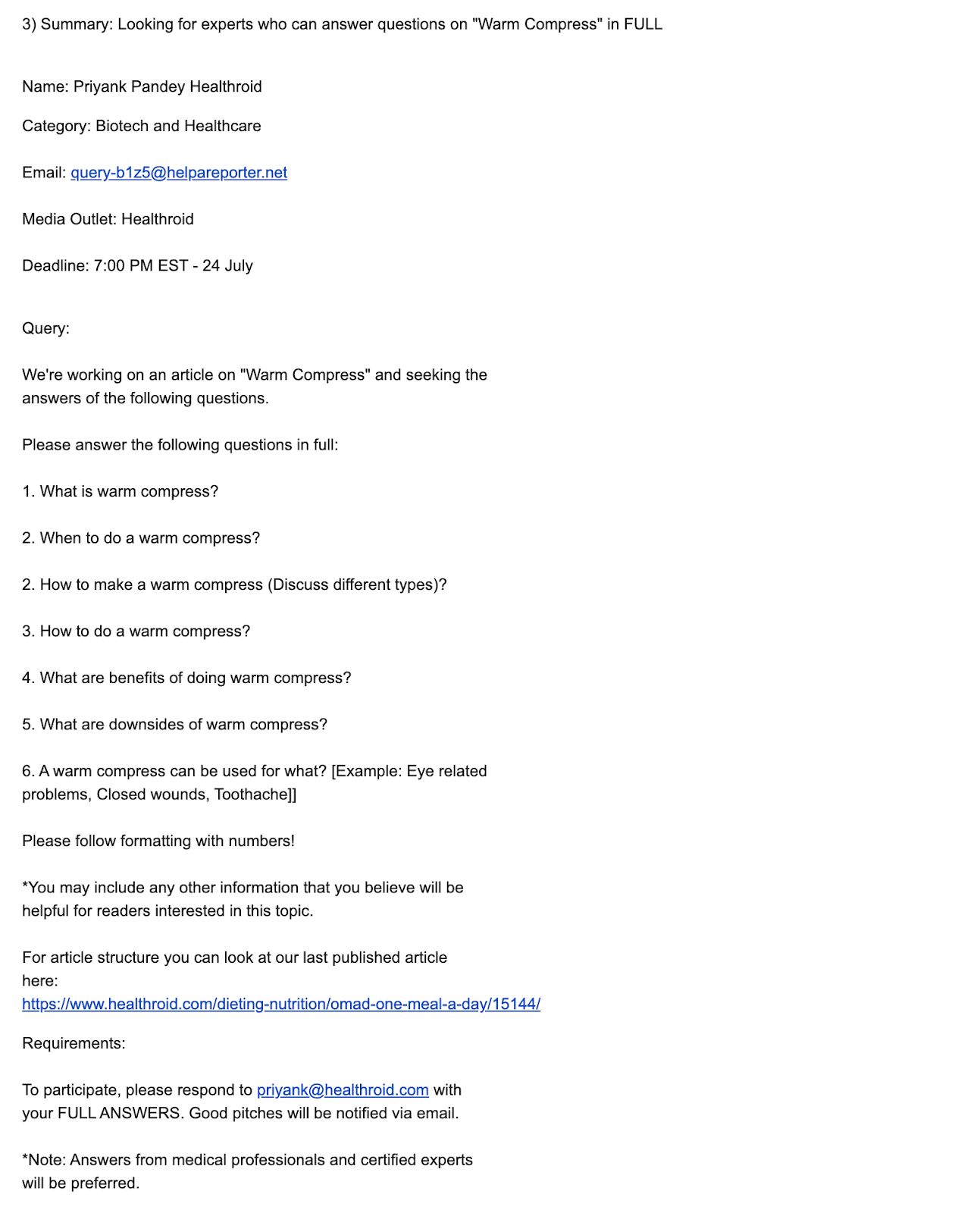 If there's a relevant request that makes sense for your business to respond to, go ahead and do it. This is an excellent intro to building authority links from the press, and monitoring these emails every day should see opportunities pop up weekly for most businesses. Just submit quality value-adding responses on things you're genuinely an expert in.
On-Page SEO 
What is on-page SEO?
According to our guide on the topic:
"On-page SEO is the practice of optimizing content and HTML source code to clearly define what your webpage is and what information it is providing. Some areas that need to be optimized include page titles, meta descriptions, alt-text, internal links and anchor text, URLs, and more."
There are a few critical on-page SEO techniques you can try, including:
Optimizing Your Title Tags
Title tags appear as the title of your SERP listing and are a key ranking factor.

At the most basic level, you'll want to make sure that the title tags of your site's pages are unique and include the main target keyword for the page (and variants where possible).
But =there's more to optimizing these than simply adding keywords. Our guide on how to write title tags suggests:
Keep titles about 55-60 characters long
Use target keywords in titles.
Describe your page content in the best possible way.
Use words like HOW, WHY, WHAT, and WHERE - help people understand what they will find on the page.
Use words like BEST, REVIEW, and ULTIMATE - entice users to click. 
Write unique titles, no duplicates!
Use your company name or brand wisely.
Keep it simple.
Optimizing Your Meta Descriptions
Meta descriptions are the text that displays under the page title on SERPs. These are excellent opportunities to encourage a user to click on your listing over your competitors' listings.

While they're no longer a direct ranking factor, they can positively impact CTR (click-through rate), which is a crucial factor. In our guide to meta descriptions, we recommended the following tips to optimize them properly:
Keep them about 1-2 sentences (140-160 characters) long
Don't forget to include your keyword
Add a call-to-action if it's relevant
Avoid duplicate meta descriptions
Make them meaningful and descriptive, matching your content
Target an emotion
Optimizing Your Heading Tags 
Another key on-page element for SEO basics is heading tags, also referred to as H1 - H6 tags.
These are used to head up content blocks and should be descriptive and include target keywords or variations.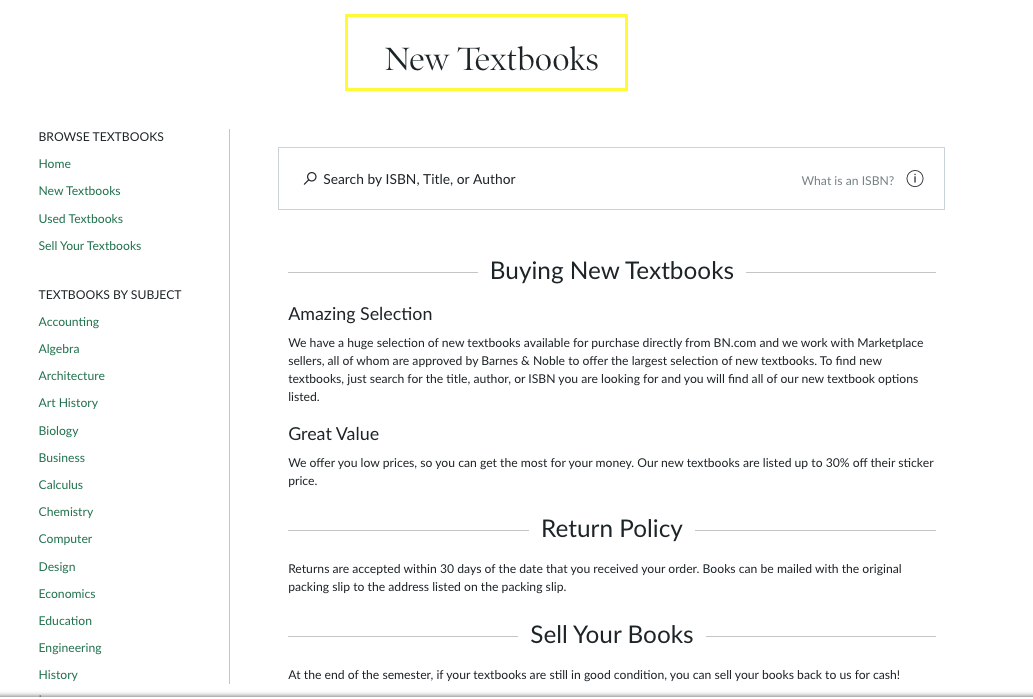 But what are the recommended tips for writing heading tags that help improve your site's on-page SEO? In our guide to small business SEO, we recommended: 
You should use an H1 tag for the main heading on every page
Include keywords naturally - don't force them or over-optimize
Use H2 - H6 tags to break up your page content
Write for users, not search engines
Summarize what's in the content that they head up 
Optimizing Your Page URL 
It's essential to write quality URLs that describe the page's content.
Think about it this way ...
If you had two page URLs:
/page-1/
/red-shoes/
Which one would you say is better optimized?
The second, of course, for the simple reason that it's descriptive. By looking at the URL, you can identify that the page is about red shoes.
As a general rule of thumb, URLs:
Should be descriptive and match the page's primary keyword
Use hyphens rather than underscores between words
Use lower-case, rather than mixing in capital letters
Be as short as possible while still describing the contents of the page
Optimizing Your Images
Ensuring your images will improve user experience is often overlooked, but properly optimizing them (from size to adding alt text) can pay off when done correctly. 
Be sure to optimize your images, and you'll almost always find that your site loads quicker, bringing improved SEO benefits and a better user experience. Our guide to image optimization offers a few tips to help you get started:
Name your images correctly to be descriptive, rather than using auto-generated file names from your camera.
Resize images to the dimensions they'll appear as
Reduce file sizes and compress images.
Optimize alt tags with descriptive text.
Adding Links From Other Pages On Your Site
When thinking about SEO basics, don't forget about internal linking. Linking between pages on your site will: 
Help search engines understand your site's structure
Pass authority between pages
Help users to navigate between pages
You can use the Site Audit tool to build a better internal linking structure. This tool includes an internal linking report: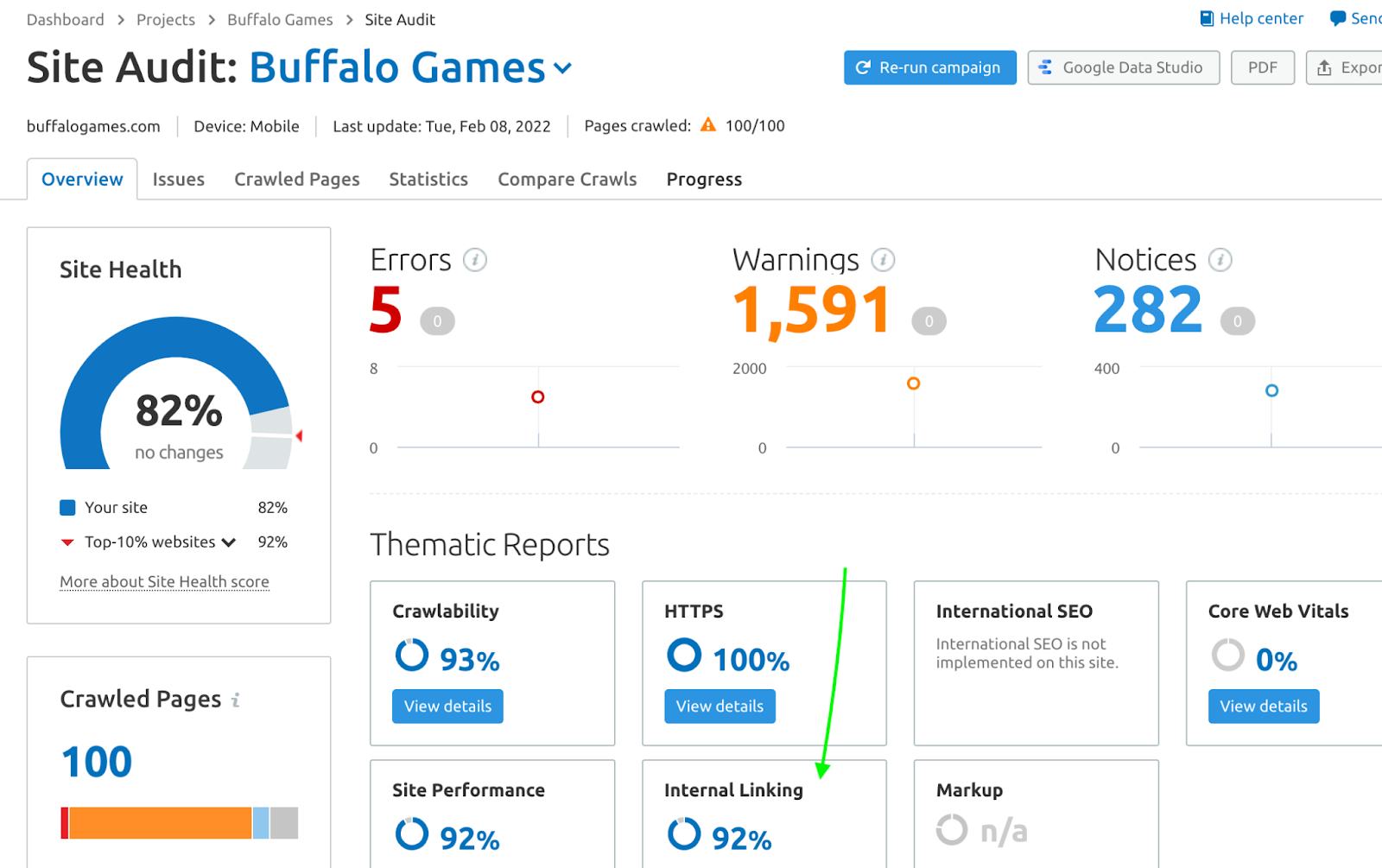 Use this report to find and address internal linking issues that can prevent bots or users from exploring your website.
You can learn more about getting internal linking right in our guide to internal links.
Technical SEO
Good technical SEO right means your site can be crawled and indexed. If search engines can't crawl or index your site, it will struggle to rank. 
Here's how you can get started:
Setup Google Search Console
If you have not done so already, set up your site on Google Search Console. This free tool helps you identify any problems Google might have when indexing or crawling your site.
Head to the Search Console main page and enter your domain. You'll then see several options for verification: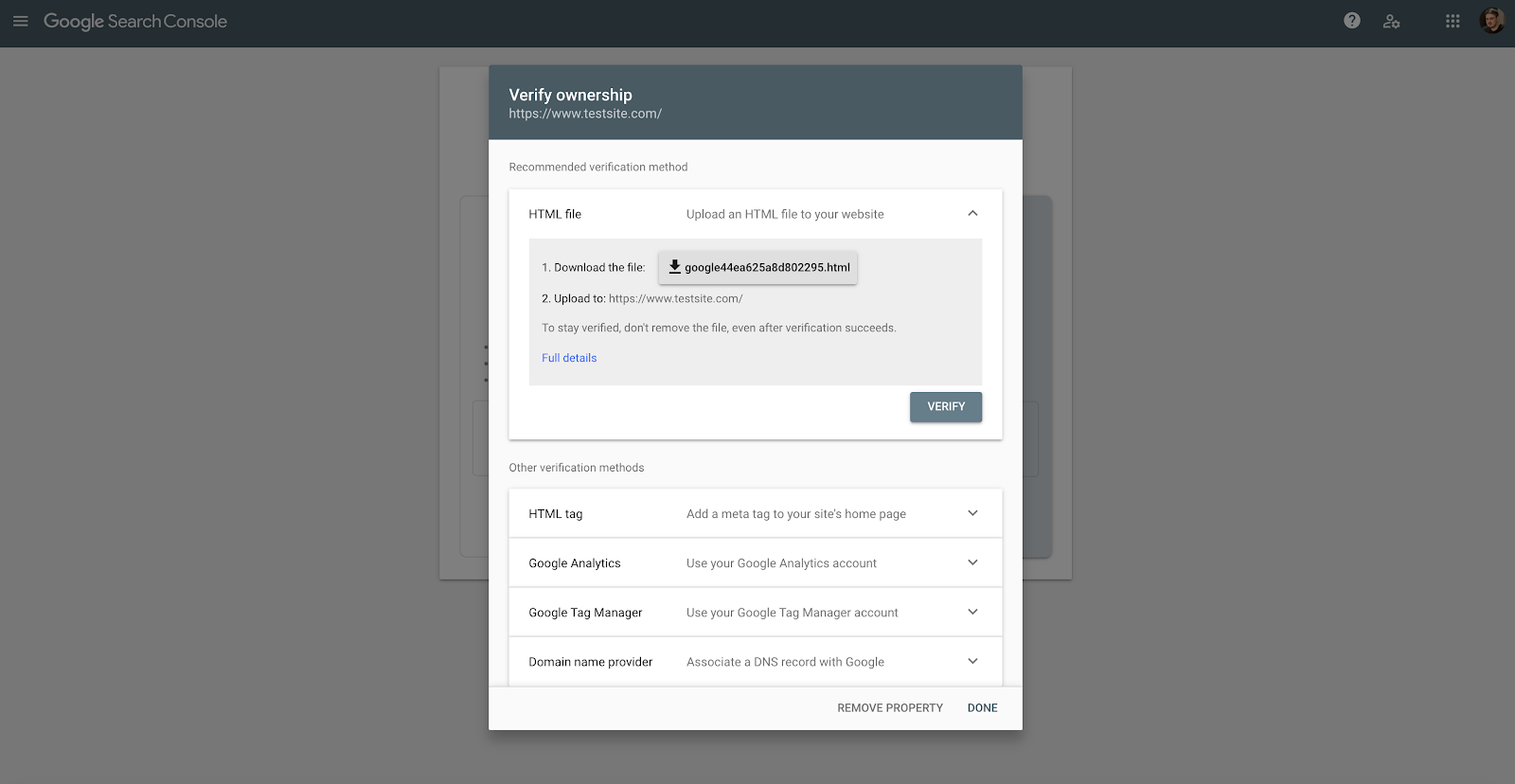 Choose the most suitable option and verify your site.
Check That Your Site Can Be Indexed and Find Issues 
The first thing you'll want to do with Search Console is double-check that no issues prevent your site or key pages from being crawled and indexed.
You can do this with the 'coverage' report. Select the report from the left-hand sidebar menu: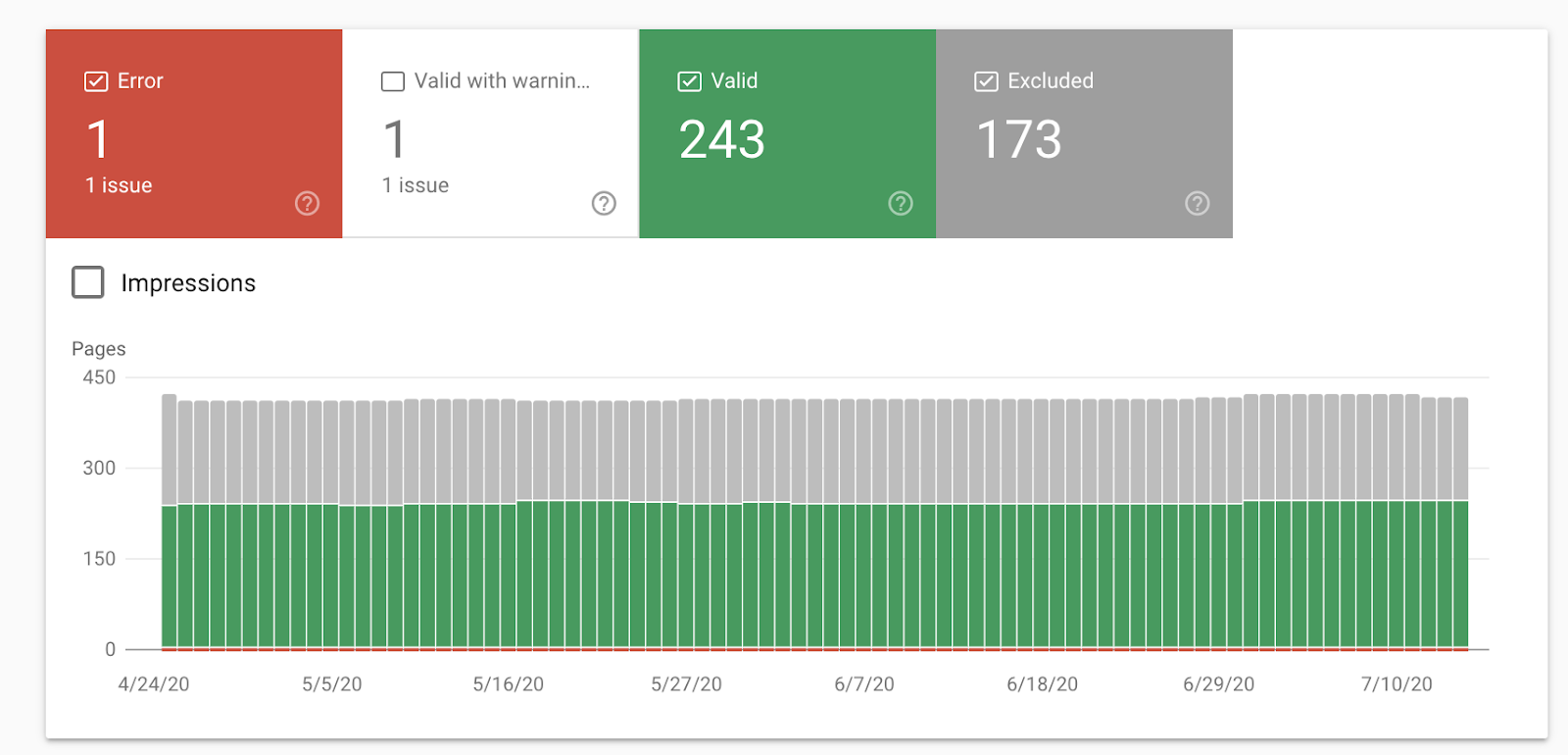 Tip: Pay particular attention here to the "excluded" pages. These are where you'll see specific issues relating to the status of your site's pages.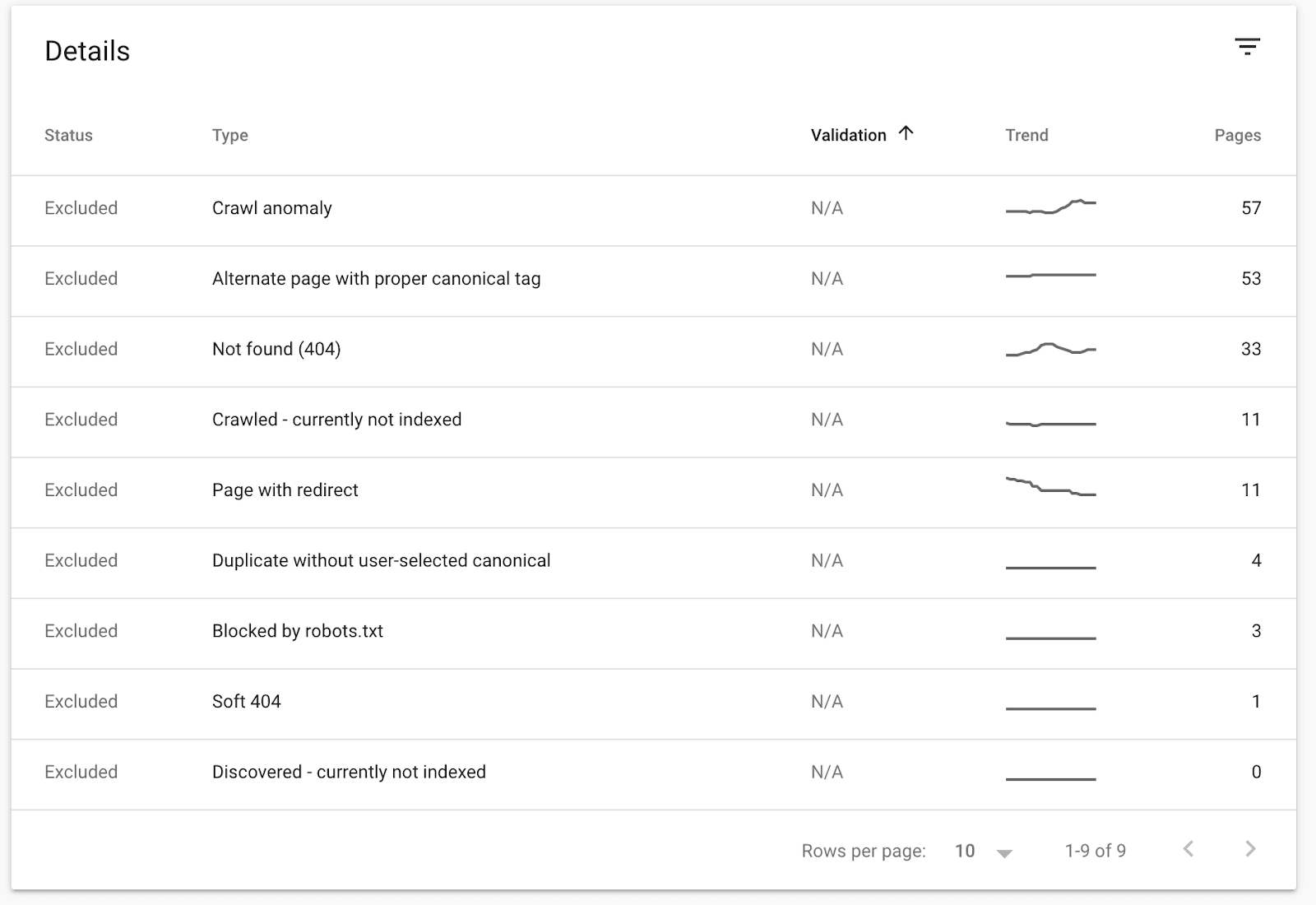 You can learn more about understanding the coverage report here.
Additionally, you can inspect any URL on the site (using the URL bar at the top of the page) and see insights relating to the index status of that page.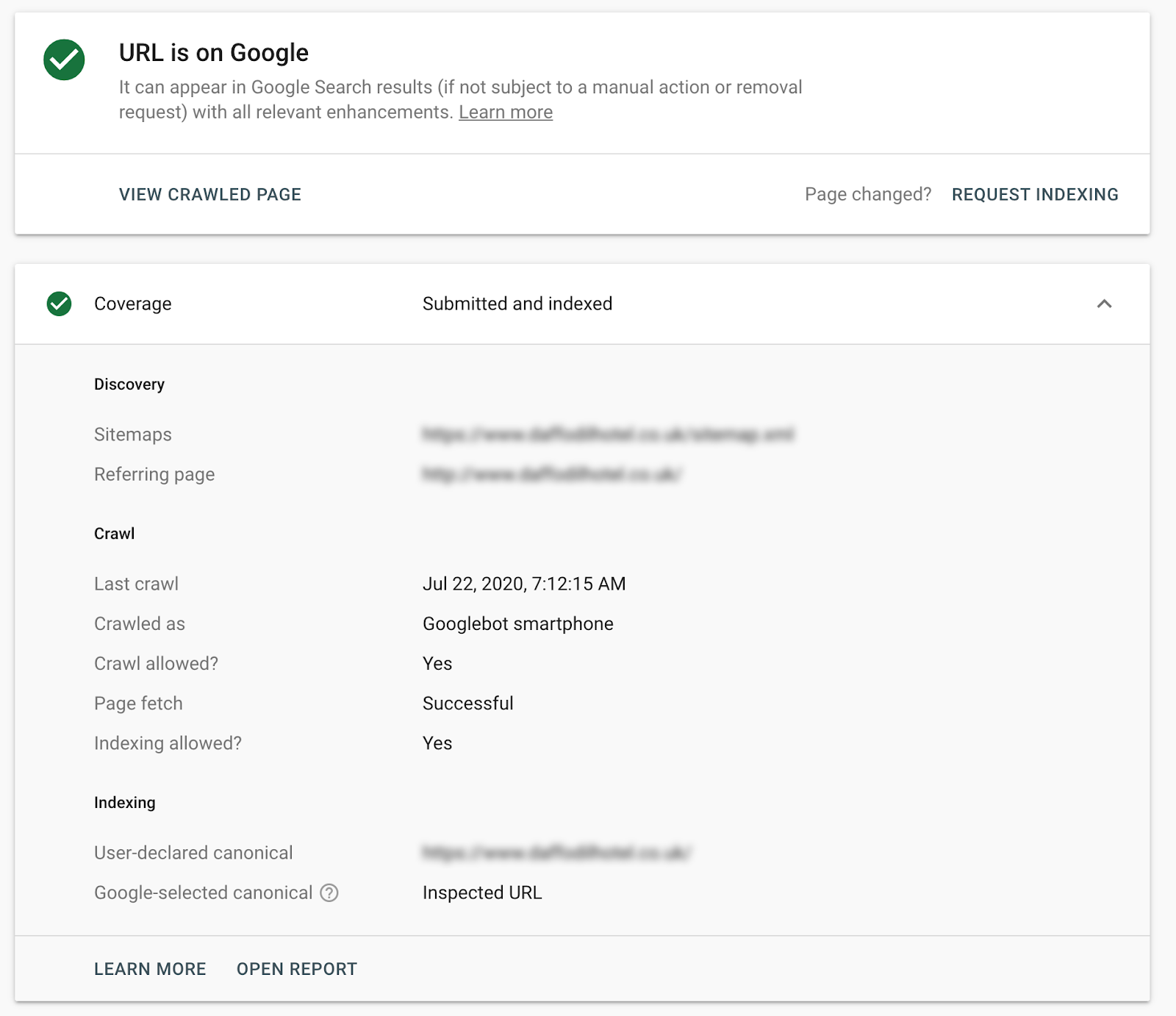 Check Your Robot.txt Files
You should see a robots.txt file for your site at: https://www.yourdomain.com/robots.txt
It should look something like this: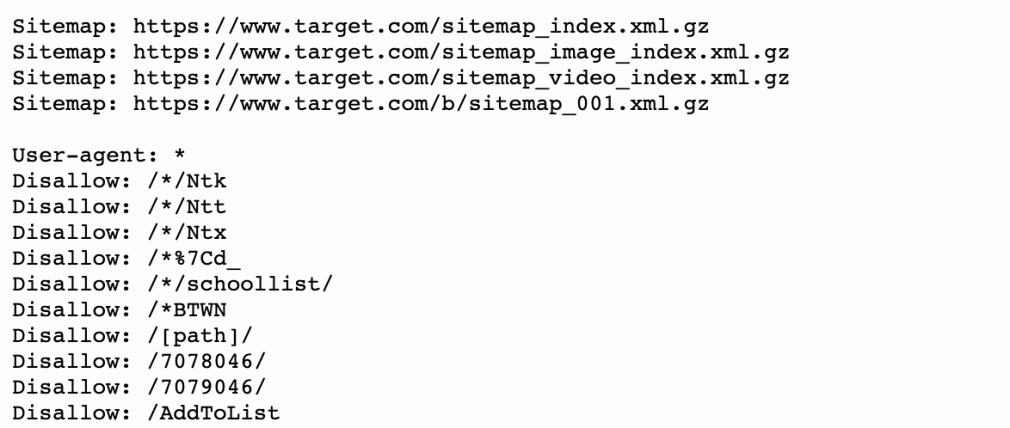 If you don't have one, you'll need to go and create one.
But what is this file for?
Robots.txt instructs Googlebot (and other bots) on how to crawl your site. If you're preventing key site pages from being crawled, address them quickly—this can cause indexation issues. 
Similarly, if there are pages that search engine bots shouldn't crawl that aren't blocked, this can result in too many pages (either duplicates or low value) being indexed. 
You can learn more about robots.txt files here.
Submit a Sitemap
According to Google: 
"A sitemap tells the crawler which files you think are important in your site, and also provides valuable information about these files: for example, for pages, when the page was last updated, how often the page is changed, and any alternate language versions of a page."
You'll find that, for most websites, this sitemap sits at:
https://www.yourdomain.com/sitemap.xml
But this can differ between platforms, and this URL doesn't need to be used. 
If you need to create a sitemap, now is the time to go ahead and generate one and submit it to Google Search Console. You can do so on the Sitemaps page.

You can read our ultimate guide to XML Sitemaps to understand why sitemaps are so important and how to use them effectively. 
Optimize Your Site Speed
No one wants to browse a slow website, including both users and search engines.
A slow site speed can negatively impact your SEO performance with a higher bounce rate, poor dwell time, and lower conversion rate. 
But first, you need to benchmark your site's speed before working out the improvements you need to make. 
Head to your Site Audit tool dashboard and select the "Issues" tab. Here you'll see any pages that have been flagged for slow page speed: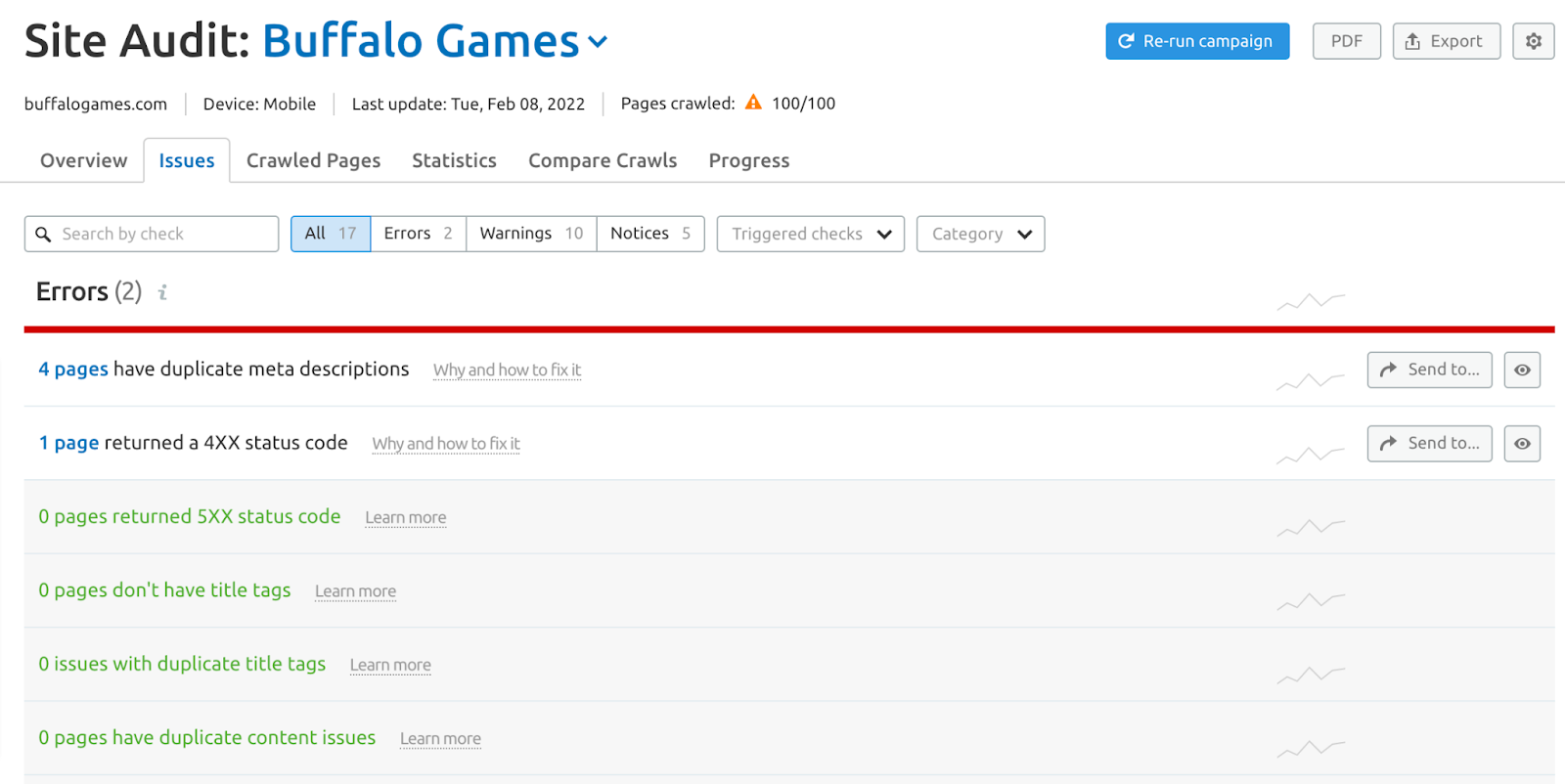 From here it is crucial to understand the specific issues causing slow page speed and the opportunities to make improvements. 
You can start by running your site through Google's PageSpeed Insights tool, where you'll be served with recommendations to reduce your load time.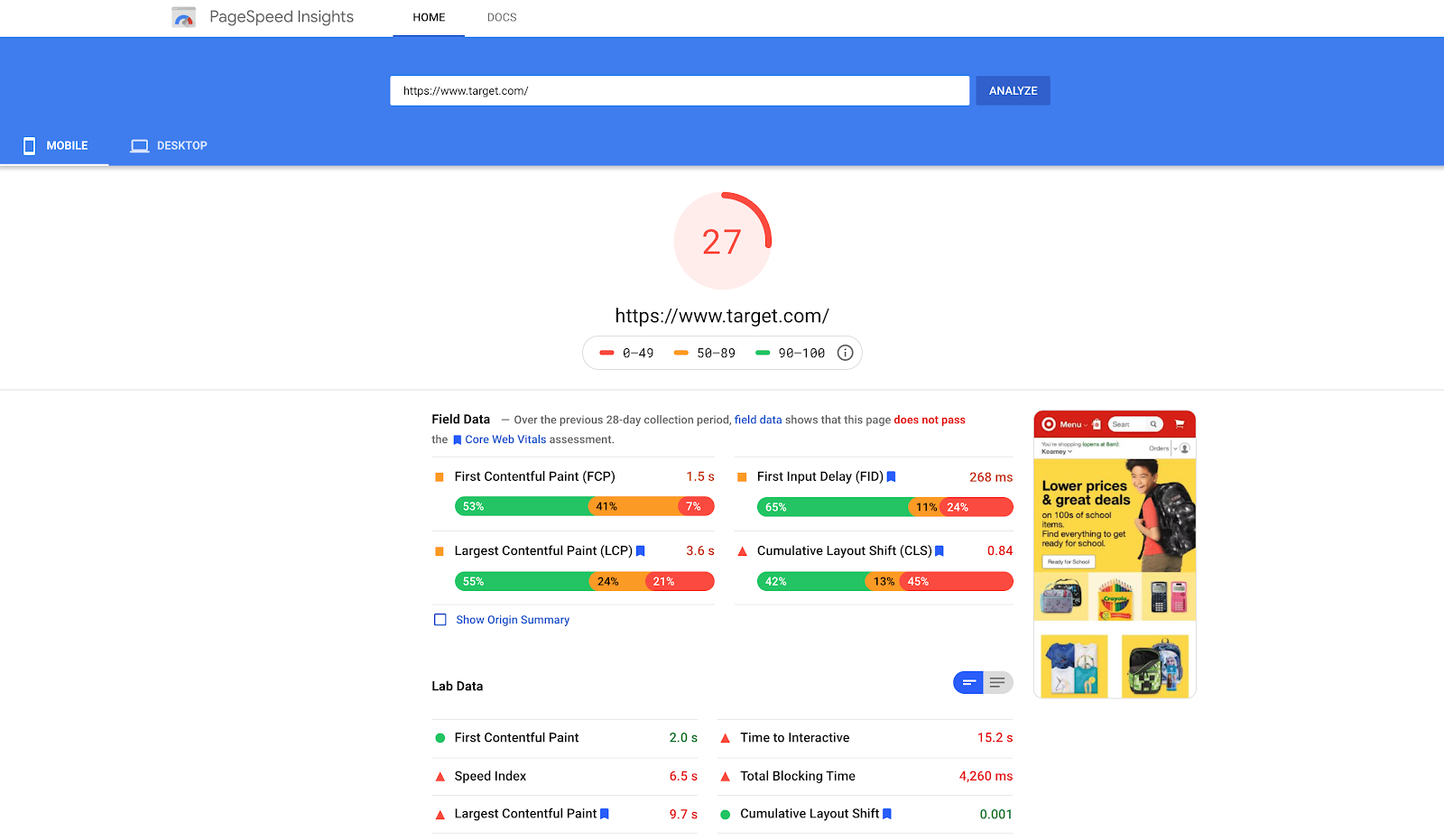 You can learn more about how to improve your PageSpeed score here.
Setup HTTPS
HTTPS has been a ranking factor since 2014.
Yet there are still sites that aren't secure and still sit on an HTTP domain. Run a check as to whether you can access your site using https:// rather than http://. 
If you are, then great! There's no further action needed. If you find that your site still sits on HTTP, speak with your developer and carefully plan a migration to HTTPS or follow this guide.
Content 
A famous saying in SEO is, "Content is king." It's a sentiment becoming increasingly important as Google strives to improve the user's search experience. There are several ways to build great content. Here's how you can start: 
Understand What Searchers Want to See For a Query 
Before creating or optimizing content, you need to understand what searchers want to see for a query, especially when there could be a mixed intent.
You need to know whether a searcher intends to see informative and educational content or commercial (products, categories, or service) pages. There are a couple of ways you can do this. 
The first is the most time-consuming: head to the SERPs and analyze the pages that rank in the top 10 positions. 
Doing this also helps you understand things like the length of the content's ranking, the topics covered, and more. 
Or, you can use our intent metric to help you determine the intent. You can see this metric in the Keyword Overview tool: 

This gives you a quick snapshot of what kind of keywords you are dealing with. 
Learn more about how to identify search intent in our latest guide. 
Create Content That Matches Intent
When it comes to creating content that matches searcher intent to help you outrank your competitors, you can use the Semrush SEO Content Template to help you produce a plan and framework for each page.
Simply enter the keyword you're primarily targeting with a page, and it will analyze the top 10 results for this keyword and return a templated framework that you can use to build out the content for your page.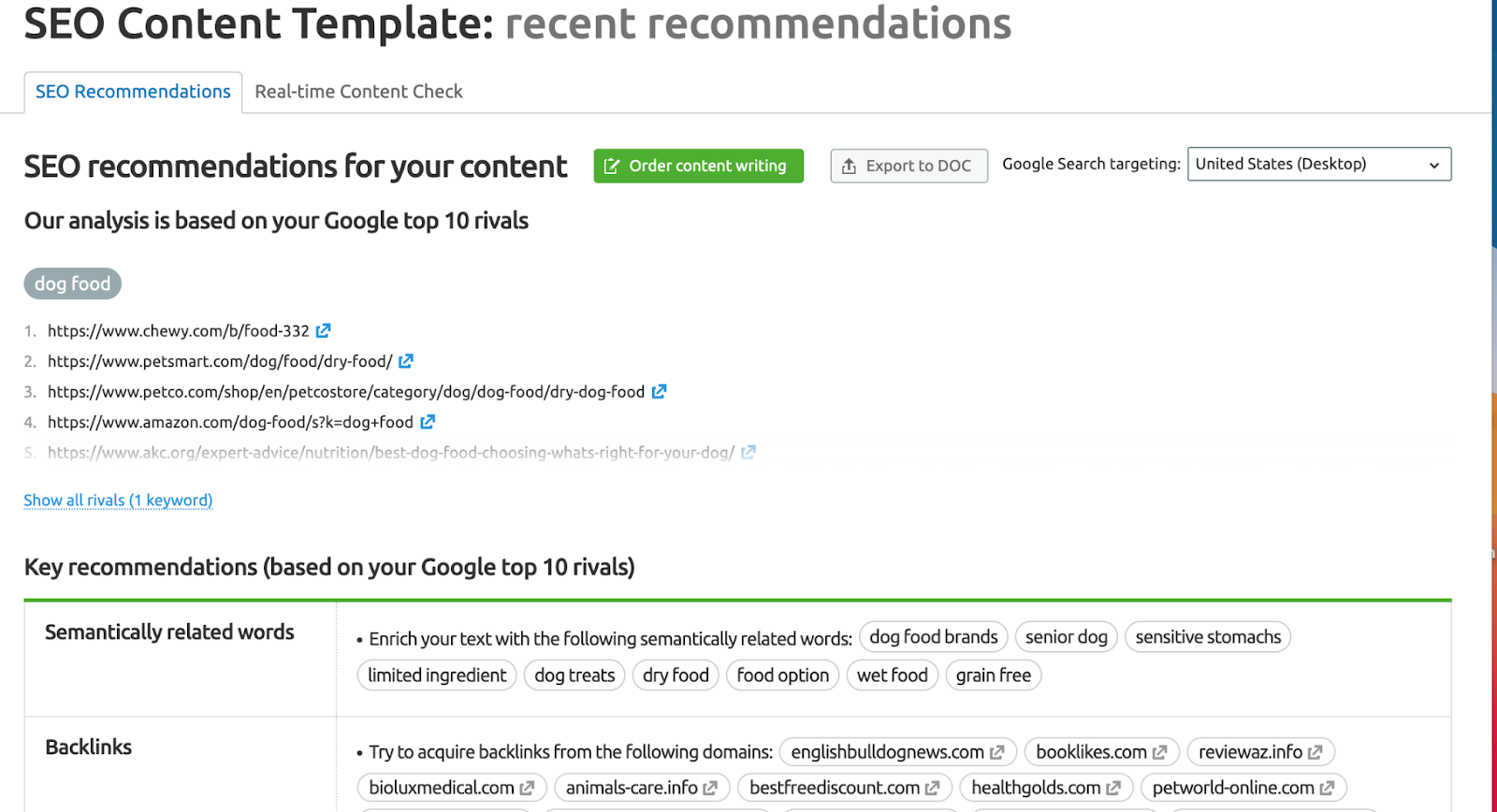 You'll be able to get an insight into the recommended text length, semantically related words to build in, recommended sources of backlinks, etc. 
Combine this with the insights you gained from manually analyzing the top 10 results, and you'll be set to focus on creating content that's even better than the current top results. 
Optimize Your Above The Fold Section
The "Above the Fold" section refers to the first bit of text a user sees when clicking on your webpage. 
This is where your content can engage users before they even have to scroll the page. This is also a handy and vital section, given the popularity of mobile web browsing (we'll get to that later). 
And perhaps most importantly, this section will also be crawled by Google bots to determine how the page will be indexed. 
So, focus on catchy, on-topic introductions informing the reader about the page's purpose. 
Utilize Topic Clusters and Pillar Pages 
Topic clusters are content groups that are related to one another. 
Pillar pages refer to the main pages on your website navigation that describe a product or service and have links to other related pages. 
Creating this content organization structure helps your user (and Google) navigate your site relatively easily. This also allows bots to work through your site logically. For more information on topic clusters, check out our helpful guide. 
To better understand pillar pages, check out this article on the subject. 
User Experience
User experience (UX), as the name suggests, refers to the overall experience of a searcher/user exploring through your website. 
Improving the user experience can help build trust and authority among searchers, leading to better conversion rates and happier customers. 
Use enticing CTAs 
Call-to-Action (CTA) buttons are important features on your website. They can help users navigate to gated content or contact information. Great CTAs draw the user in without being intrusive or gimmicky. 
Here's an example of an un-obtrusive CTA for Patagonia's winter sale. The CTA describes the offer ("Winter Sale," "40% off.") Clicking the button below leads the user directly to Patagonia's popular winter sale: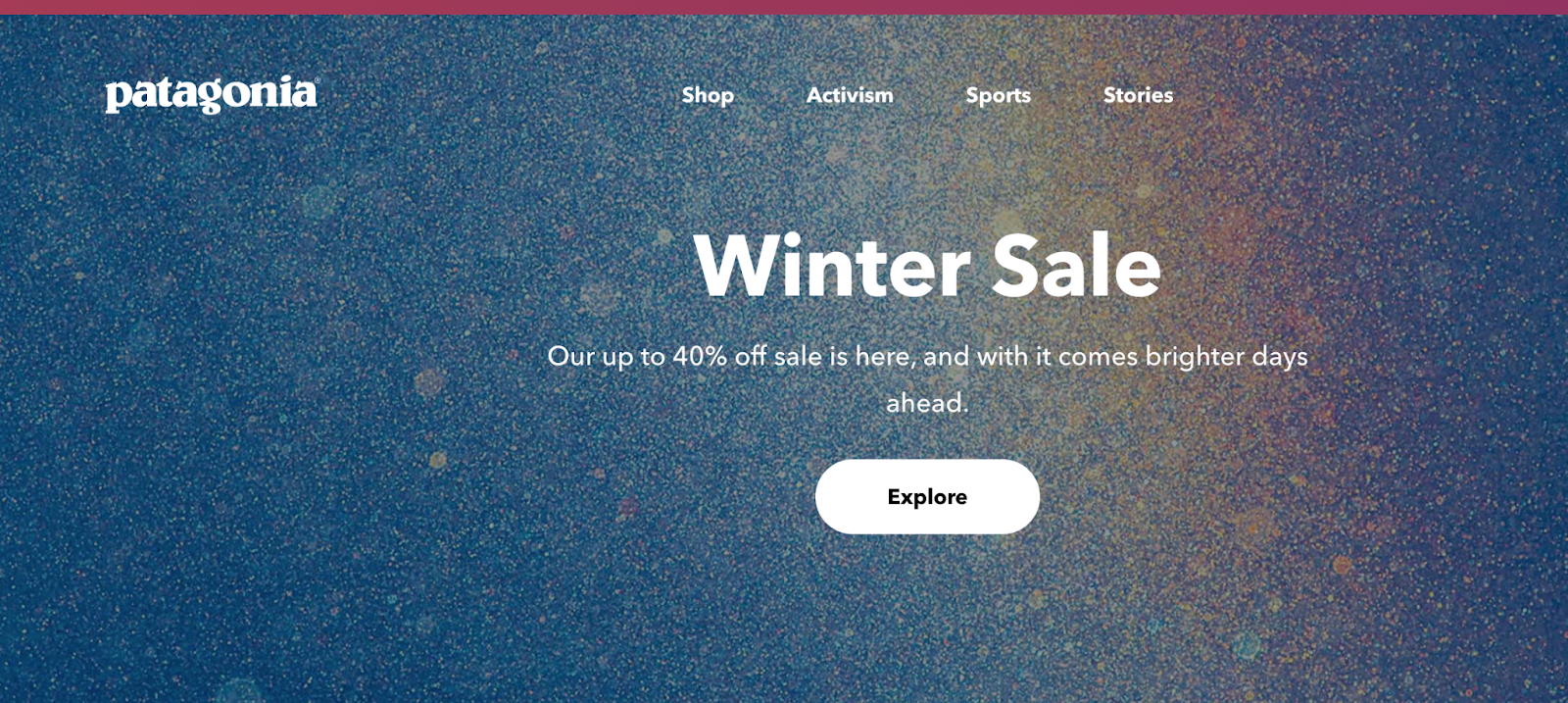 When situated at the top of the page, this CTA reduces unproductive scrolling and tells customers what to expect on the other side of their click. 
Avoid Walls of Text 
When you're writing and optimizing your content, it's important to consider the white space on your web pages. By adding frequent paragraph breaks, you give readers a visual respite from walls of text, which can be challenging to read and frustrating to work through. 
Use Listicles, Bullets, and Numbered Lists
In addition to using white space as a visual respite for users, you can also break content out into bulleted and numbered lists. 
This helps users work through your content in an organized and concise manner. In addition, while it's not a direct ranking factor, number and bulleted lists tend to have a better chance at securing a featured snippet like the one below. 
Use Dynamic Content 
Using dynamic content means you include images, video, infographics, and other forms of content that move beyond just text. This is great for users who don't have the time to read a long article but may be able to watch a video on a subject while riding the bus to work. 
Infographics are also a great way to inform readers about a topic while also providing them with an easy-to-share content element that they can then pass along to their networks. They can also refer back to these infographics to get a quick refresher on the topic of your content. 
Mobile SEO
Google, for several years, has been prioritizing page speed for mobile platforms as a key ranking metric. The search engine understands that more and more people are relying on mobile devices to do their internet searches, and the company has acted accordingly by implementing mobile-first indexing.
So, it's safe to say that optimizing for mobile platforms is key to the success of your website. You can use Google's Mobile-Friendly Test to see how your website appears to mobile users at this moment. 
Here are a few basic guidelines for making your website mobile-friendly: 
Make sure to use a mobile-friendly website configuration like a responsive website (meaning the experience is the same across all platforms) or a dynamic website (meaning that the experience is tailored specifically to the platform being used for browsing)
Tailor your content to a busy audience — mobile users might be on-the-go and short on time
Consider users that rely on a mobile voice-search feature and create keyword lists accordingly
Don't let your navigation bar get too cluttered or too long, as this will be harder for mobile users to sort through 
Use flash and other coded elements carefully as these could slow down mobile page speed 
Measuring SEO Success 
If you want to see continued growth and success for your website, you'll have to know what you're doing right and what isn't going so well with your SEO strategy. This means measuring the success of your SEO strategy frequently. 
How do you go about measuring SEO success? Several metrics can tell the story of how well your SEO plans are working: 
Organic Traffic 
Organic traffic refers to the number of non-paid visits to your web content. You'll need to have your Google Analytics (GA) set up to get these numbers. (We have a 5-step guide on how to do this.) 
Once you have your GA setup, you can connect both your GA and Google Search Console accounts to our Organic Traffic Insights tool and similar tools to see data from both places in one convenient location. 
If your organic traffic numbers are going up, that's a good indicator that your content resonates with people and that your keywords are targeting the right audience.
If your traffic numbers are trending downward, you may want to ensure that your site is indexed correctly and rendered and that your keywords aren't too challenging to rank for. 
Time On-Page and Bounce Rate 
Time on-page and bounce rate are two metrics that help you determine if your content is resonating with your audience or not. 
Time on-page measures the time between two clicks: the first click that brought a user to your page and the second click that takes them elsewhere. Elsewhere, in this case, can be another page on your website or back to the SERPs, etc. 
Time on-page can tell you a lot about the performance of your content. If users aren't finding answers to their queries, or if your content is long and tedious, the chances are that a user will click away to another site or try another web page on your site. 
Bounce rate describes just how many single-page sessions your website has had — that is, how many people came to one page on your site and left immediately after. 
A high bounce rate could indicate that your content isn't well-aligned with users' search queries. You may have to do further keyword research or streamline your content to serve your site visitors better. 
The On-Page SEO Checker is a valuable tool for a holistic check on your web content. You just enter a URL, and the tool will give you a list of ways to improve the on-page experience of your content for your users. 

Conversion Rate
A conversion is defined as the number (or percentage) of users who perform your website's desired action. Desired actions in this context could be submitting their email address and contact information or purchasing a product page. 
To calculate your conversion rate, divide the number of conversions by the number of visitors to your site. Once you have this number, multiply by 100. This will give you a percentage. 
You can get the number of unique visitors to a site by entering the domain into our Traffic Analytics tool.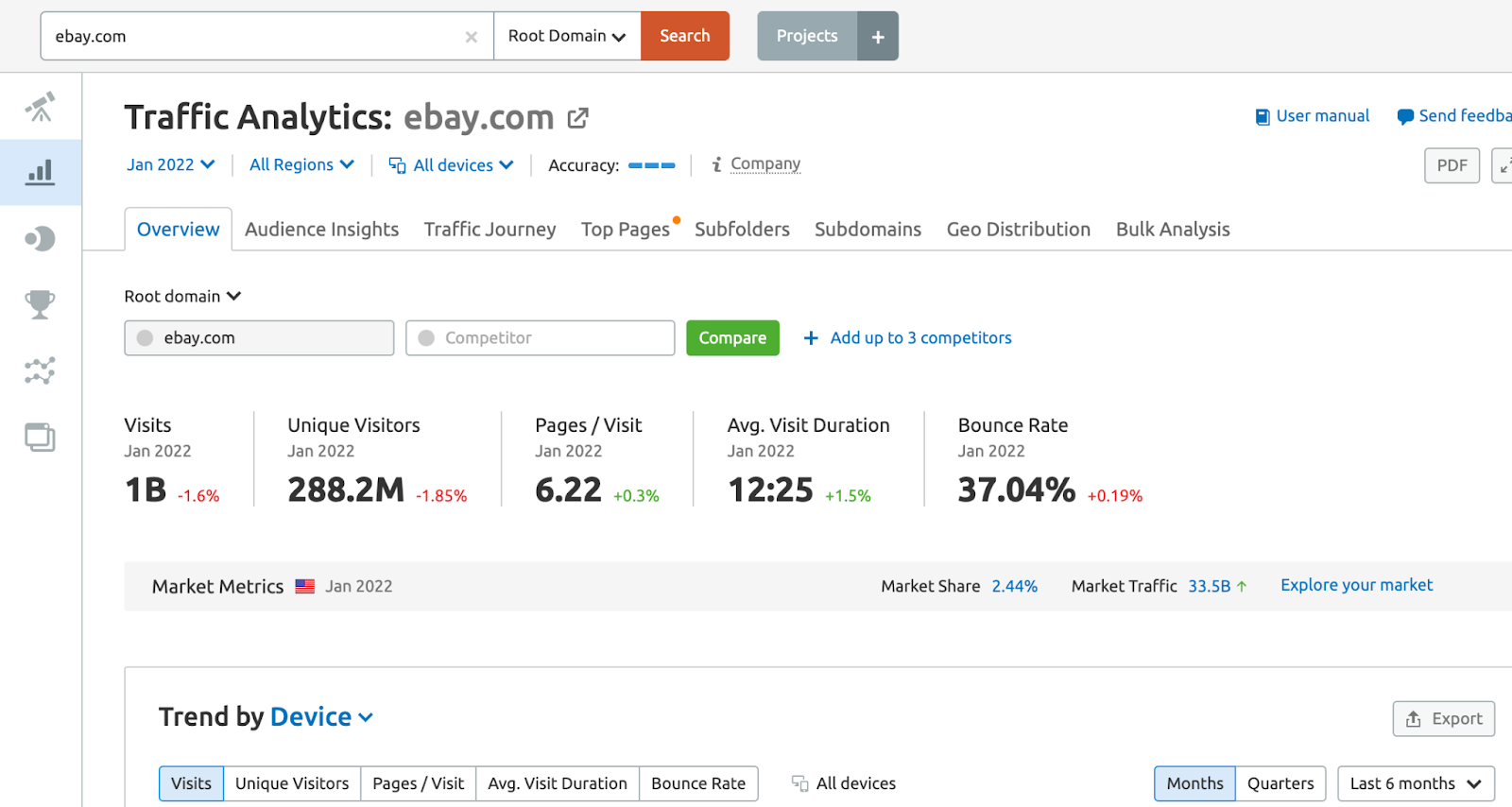 Determining your desired action/conversion will depend on your business goals. It can be as simple as setting a plan for a certain number of page visits to your contact page or something more extensive like requesting a quote. 
If your SEO is successful, you'll hopefully see higher conversion rates. If you're noticing that you're failing to convert in significant and/or small ways, you'll want to determine if: 
Your desired conversion is something reasonable and not too far-fetched (like getting a million email subscriptions in 3 days)
Your content is aligned to meet the conversion rate goal 
Your site's technical performance is geared towards a great user experience
Final Thoughts
First, congratulations on taking your first steps into the world of SEO! 
SEO is one of the essential tools a digital marketer can have in their tool kit. Well-executed SEO helps searchers find you in the SERPs and can help improve your conversion rates. 
For more information on the topic of beginner SEO, check out our other articles: 
Or, if you're looking for a more hands-on learning experience, you can sign up to take one of our dozens of free online SEO courses through the Semrush Academy!